Source:
http://www.theguardian.com/careers/careers-blog/making-the-most-of-your-degree-on-your-cv
Close the gap
Think about what makes your degree commercially valuable. A degree in modern languages will allow you to deal with a firm's foreign customers or to translate or interpret in meetings, negotiations and correspondence, for example. A degree in marketing or business studies may have given you the skills or theory a company needs to compete more effectively or gain market share. Highlight projects or real-world case studies that are directly applicable to your target roles and companies, and relate them to the requirements of the role. For example: "Trained to spot and adapt winning marketing strategies in the (food) industry" or "Learned to analyse the characteristics of successful product spin-offs".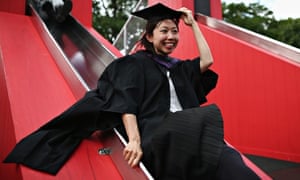 Highlight skills
If your degree was not business or industry-orientated, focus on skills you acquired. Beyond time-management and ability to work under pressure, critical and independent thinking skills are key areas for recruiters. Demonstrate these by emphasising dissertation or coursework research, using terminology such as "investigated", "evaluated" or "assessed" to illustrate the depth or extent of your research. Include any positive comments from your supervisor.
You may have developed other strengths which give you an edge. Social media or technology skills are increasingly in demand. Suzanne Kavanagh, publishing sector manager for Skillset, says: "If you know how to use social media and have examples of how you have built awareness, conversation and followers online with successful calls to action (make a donation, advocacy or peer-to-peer promotion of a particular issue) they will be of interest." Include any experience you have of creating a blog, Facebook fan page (for your department, for example) or social media campaign.
Emphasise relevant extra-curricular activities
Employers like to see initiative, leadership, and commercial savvy. If you set up or ran a society, managed an event, or demonstrated problem-solving ability, then you'll have gained valuable skills, regardless of the results of your efforts. Highlight activities that demonstrate teamwork or communication skills, or which prove your ability to see through a project to completion.